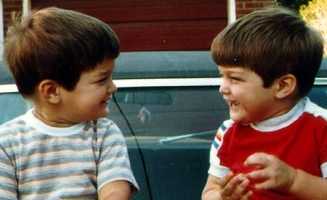 Little Dan and Ryan
Let's Start At The Begining
Looking back to December 5th, 1979, when identical twins Dan and Ryan Kowarsky were born in a Cincinnati, Ohio hospital. They were the only kids in their family to be born on North American soil (the parents and three older siblings left their South African home in the late 1970s); Dan and Ryan were born into a very musical family. Their father is a world-renowned professional cantor and concert artist, and all three older siblings are musically gifted as well. The twins were surrounded by music as they grew up and Ryan remembers their first public appearance on stage.
"Dan and I were 4 years old, and we joined my sister and brother on stage at a local community centre," Ryan remembers. "We sang 'You Are My Sunshine'. My parents taped it - and it's one of our favourite home movies. In fact, we still love to perform that song live!"
Dan and Ryan describe themselves as "inseparable...the best of friends" and remember singing constantly as kids. After they moved to Toronto as infants, they grew up in a household filled with music, encouraged by their musically-minded parents to explore singing, writing lyrics and melodies, and performing. "Since I can remember, my mom had been compiling baby books, scrapbooks, tapes of our early performances, the works," Dan shares. "She's a social worker, but she should really be a journalist!"

Now, across the ocean, Ohad Einbinder was born on March 13, 1982 in Jerusalem, the middle of three sons of a businessman father and a mother who is a popular Israeli singer. He remembers watching his mother performing at concerts when he was a toddler, but his own public debut was when he was in kindergarten.
"We used to have this 20 minute sing along every morning in class," he recalls, "and I remember one of the first mornings in September I didn't quite 'get' the concept. I told all the other kids to shut up, and I stood on my chair and insisted on singing a solo." He laughs. "I remember getting in trouble for that one."



Ohad and his family moved to Toronto when he was 11, and he quickly adjusted to the new land and a new language, English. He met his future bandmates Ryan and Dan at a mutual friends house when the twins were 14 and he was just 12. They became close friends immediately.
"Our parents used to say to us: 'what do you see in Ohad? He's not in your age group,'" remembers Ryan with a smile. "And his parents would say to him: 'what are you hanging around with those older kids for?' But the age difference never mattered to us. We would spend tons of time listening to the radio - The Jackson 5, Boyz II Men, and Stevie Wonder - and I'd take the top parts, Dan would do the middle harmonies, and Ohad would take the bass. We'd memorize all the pop songs on the radio and work on the harmonies for days."

Then one fateful day in 1999, the three were driving around Toronto, itching for fame or maybe just something to do. "We were on our way down to MuchMusic's 'Speakers' Corner' to sing, because we wanted to get noticed," remembers Ohad, "and out of the blue I said as a joke, 'Let's walk into Sony.' So we rolled down our car window, asked some taxi driver where to find Sony's office, and within minutes we were standing in the lobby trying to sweet-talk the receptionist into letting us go in the building to sing for someone, anyone who could help us!
Next thing we knew, two guys walked out into the lobby on their way out to lunch, overheard us, and said 'hey, why don't you sing for us?' So we did, a cappella, not knowing who we were singing to and thinking we had nothing to lose!"
Lucky for them, the two strangers were the head of Sony Music Canada's A&R department and the chief engineer for Sony's Oasis recording studios. That impromptu audition was the key to making their debut album 'B4-4', 12 amazing pop songs brought together to make the perfect combination for their album.
"Recording this album was like a dream," describes Ohad with enthusiasm. "I'd wake up at 4 a.m. some mornings and just wait for the moment when I could leave the house and go to the recording studio. Ryan and Dan would sometimes sleep over, and we rented a bunch of gear - microphones, amps, basic stuff - just so we could go home to my basement at night after a day in the studio and practice, practice, practice, so that each day in the studio would be the best it could be."
The trio teamed up with a group of writers to collaborate and craft the 12 songs that would eventually become their debut album. Many of the songs were written but Jason Levine and James McCollum, the geniuses behind the multiplatinum act Prozzak
"Jay and James came up with such original ideas in the studio," praises Dan, "and it's amazing the different kinds of songs those two guys are capable of writing - from pop to dance to techno. Although so much of Prozzak's material is brilliant, it's ironic that the songs they brought to us were so sincere, so appealing because they were written from the heart."
The result was a combination of hip swinging songs such as 'Get Down' (the groups first singe) and 'Go Go', to the sweet and soulful sound of 'How Did We End Up Here?', 'Everyday' and 'Smile' which was the first song the trio recorded.
"We went home that night and worked on the harmonies and lead lines for hours," Ryan recalls. "We went in and did the song during our very first day recording, and that vocal take made the album. That song is so special to me because of the great memories I have of that time." The three members of b4-4 unanimously agree that the process of signing a deal, recording an album, and getting ready to take their music to a stage for a live audience has been the ride of their life - and a whole lot of work. Just listen to the message in the rockin' song 'Really Gotta Want It' which describe all the hard work you must go to reach your dream. So how does Ohad feel about sharing the stage with identical twins?
"They're like family," says Ohad. "Actually, a lot of the time we get mistaken for triplets. But musically, Ryan and Dan are two totally distinct voices and they have these unique, amazing singing styles." As for the twins, Ryan sums it up "We're so close," he smiles. "It's hard to explain to people, because . . . it's as though he's me. It explains a lot about how well we get along - because how can you fight with yourself?"
Dan agrees. "I can't even imagine not working with my brother. I'm so proud of this record, and every day we're trying out something new. When Ryan and I were younger, we insisted on working at the same part-time jobs: fast-food restaurants, theme parks, pet stores, factories, you name it. These days, I think Ryan, Ohad and I just scored the best job in the world."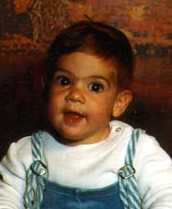 Little Ohad